Regular price
Sale price
MYR153.70
Unit price
per
Sale
Sold out
Low stock
Description
"Kattobi" Tuning Kit is special bearing for bait casting reels.
It is a 2-pack set.
Bearing size : 1150AIR (5mm x 11mm x 4mm) & 1030AIR (3mm x 10mm x 4mm)
With English instructions, even the beginner can easily replace bearings.
Please enjoy the upgrade of your reel!!
To replace spool bearings, you need a "HEDGEHOG STUDIO Spool Bearing Pin Remover".
If you do not have one, please purchase from the following link.
> 
http://www.hedgehog-studio.co.jp/product-list/2

This is super-high rotation bearing working well for "finesse fishing" with a bait casting reel, which manages some lure weight between about 1g to 28g (1/28oz to 1oz).
By the adoption of a small-diameter ceramic ball and high-strength molding housing, you can cast lures of the MAX 1oz class, not to mention what is most suitable for finesse fishing with baitcast reel.
The bearing is NOT a tender design for exclusive use to finesse fishing with baitcast reel.
Having a rotary response by casting an ultra lightweight lure, you can taste the same sense as the use of normal bearing.
Once you try the "AIR" and cast it, you can feel the difference.
Please experiance the ultimate rotation performance of "AIR bearing".
* "AIR Bearing" is Designed & Trademark patent of HEDGEHOG STUDIO Co.,Ltd.
Product Features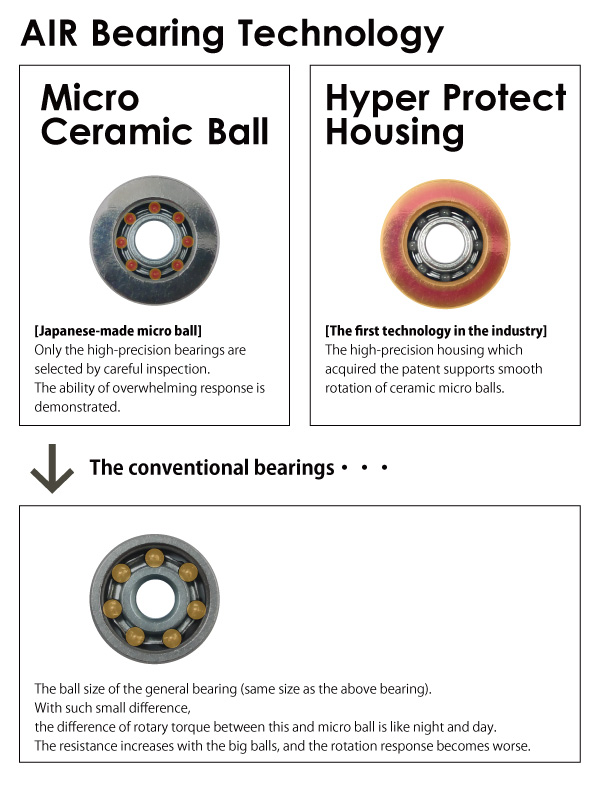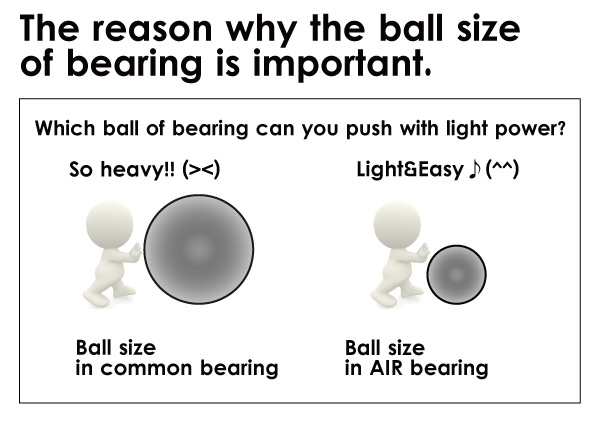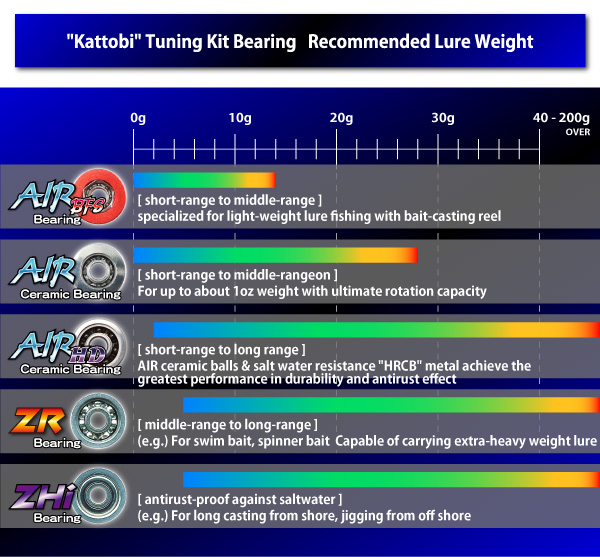 * When fully casting a lure weighing 20g or more, the maximum reachable distance is about the same for all bearings, but the AIR bearing series is easier to control at short distances such as pitching.
(For lightweight lures weighing less than 20g, the AIR bearing series will increase the distance of a full cast compared to a regular bearing.)
* AIR BFS bearings are a cost-reduced version of AIR ceramic bearings.
It does not mean that AIR BFS bearings are more likely to produce greater distance when used in bait finesse than AIR ceramic bearings.
Even if only ultra-lightweight lures are used, the AIR ceramic bearing will provide superior total balance.
* If you want to use the highest performance bearing, choose the AIR Ceramic Series.
Lure weighing less than 20g → AIR Ceramic Bearing
Lure weighing more than 20g or used mostly in saltwater → AIR HD Ceramic Bearing
* The above recommended weights are for casting. Even heavier loads can be applied when not making full casts, such as jigging or offshore fishing.
(AIR Ceramic Bearing is recommended for offshore fishing when increasing the sinking speed of the trap is important, and AIR HD Ceramic Bearing is recommended for jigging main use.)
* All bearings can be used in saltwater, but the AIR HD ceramic bearing has the best corrosion resistance, followed by the ZHi bearing.
Share
View full details