Regular price
MYR40.28
Sale price
MYR37.10
Unit price
per
Sale
Sold out
Low stock
Slow Sinking Type:
45mm / 3.0g
Sinking Type:
45mm / 3.7g
50mm / 4.5g
60mm / 5.7g
Heavy Sinking Type:
50mm / 5.5g
60mm / 7.0g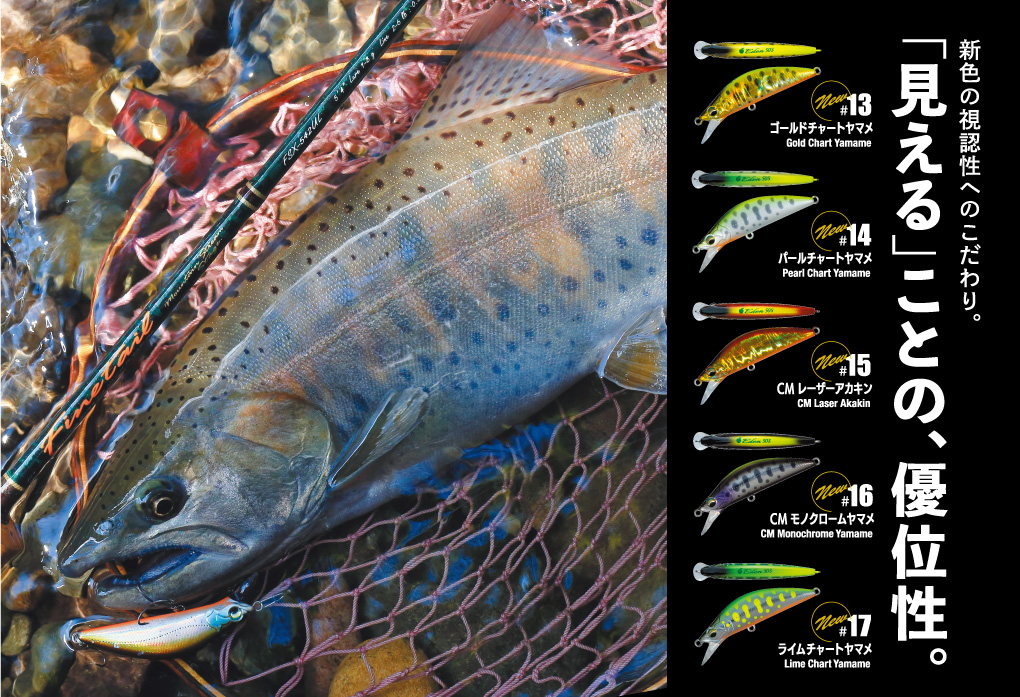 NEW  #13 Gold Chart Yamame
The color that can be said to be number one in visibility. Easy-to-use chart back and orange berries with a clear silhouette. Magma gold that shines even with low light. A very popular color for anglers who like sight fishing.
NEW  #14 Pearl chart yamame trout
A pearl body that is actually very catchable. It is useful in all situations, such as when you want to naturally appeal to turbidity, low light, and threaded fish. The background is a gradation of lime green and chart with good color development and high visibility.
NEW  #15 CM Laser A classic
color preferred by trout. A chart marker with good visibility is applied to the back of this fishing color. A chart marker that is advantageous to anglers with traditional fishing colors. It is a new color that was not possible.
NEW  #16 CM Monochrome Yamame
A clear silhouette with a black rim, and a strong flushing of the plating at the center of the body. The silhouette looks compact, so it works well for threaded trout. It is also effective for insect patterns, but nervous trout in early autumn also respond well.
NEW  #17 Lime Chart Yamame
Silver plating and fluorescent chart permarks that stand out in the sunlight. The gradation of lime green and chart with good color development is not only beautiful to look at, but also supports riverbeds with various stone colors. Effective at points with clear light and dark, such as the shade on the bank.
With its unique flat shape structure, you can enjoy various actions such as crisp fluttering and slow short darts.
The low center of gravity fixed weight stabilizes the flight attitude and enables long casts.

 

Since it sinks from the rear, thread entanglement is also drastically reduced.
Sight fishing is one of the attractions in the stream trout game.
I can't forget the excitement I felt when I saw the trout bite the lure at top speed in the stream.
Carefully trace the target flow while flushing the lure from the landing point with a rod action.
How does the lure move in the current?

 

How does the trout track the lure and at what timing does it bite?
It can be said that the visibility of the lure is a very important factor in order to grasp a series of these actions.
For the new Eden color to be added, we carefully selected colors that have a proven track record in fishing results, taking into consideration the visibility that will be superior in the stream.
Original hook made in Japan.
Uses fluorine coat.
Share
View full details